Molina Healthcare of California Diaper Drive
Because diapers can be expensive, many low-income families are forced to use less than they need, leading to health problems for baby and many more issues for the whole family. Meanwhile, up to an estimated one-third of those over 65 have urinary continence trouble.* For people living on a fixed income, the cost of adult briefs can add up.
Molina Healthcare wants to help ....join us to exceed last year's goal.
*According to the National Association for Continence.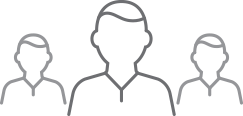 1 in 3
Adults suffer from incontinence. Babies will eventually stop needing diapers. Adults with incontinence won't.
---
---
$80/month
How much it costs to provide a month's worth of diapers or adult briefs For some families, this financial burden proves to be too much.


5.3 million
children under the age of 3 live in poor or low-income households.
---
---
Have Questions?
If you have questions or would like to discuss any partnerships, please contact us at: